Simple DIY Ideas to increase "Curb appeal" is more than just a trendy buzzword that real estate agents throw around. Your front of house landscaping speaks to both the general appearance and the condition of your home, and it can have a very big impact on its value. In fact, a nice looking and well-maintained front yard can boost the value of your property by as much as 5.5% to 12.7%, which can translate to ten (and sometimes even hundreds) of thousands of dollars.
Even if you have no intention of selling your home anytime soon, putting time, effort, and a bit of cash into your front of house landscaping can increase your satisfaction with how your home looks and inspire you to put that same level of effort into other exterior and interior design projects. So if you're looking for a place to start with home improvements, curb appeal might be just the ticket.
Where to begin? Here are some of our favorite fun and easy DIY projects for taking your front of house landscaping to the next level.
Landscaping your front yard costs, on average, about $1,500 to $5,000, according to HomeAdvisor. However, you can save a lot of money by choosing to do all or most of the work yourself. While some front of house landscaping projects are generally best-handled by the pros (such as installing drainage or sprinkler systems), there are tons of simple things that you can do on your own to improve your home's curb appeal—and many can be accomplished in just a couple of hours or over the course of a weekend.
So roll up your sleeves and consider taking on one or more of these creative do-it-yourself front of house landscaping ideas.
1. Tackle Quick Fixes with this Simple DIY Idea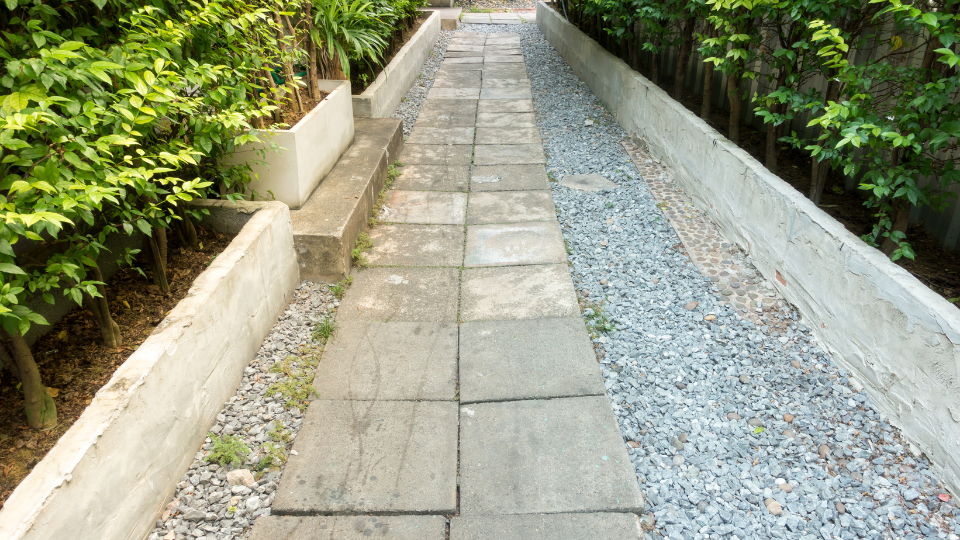 Little things can greatly improve your home's curb appeal, but they can also work against it. Case in point: cracks in the pavement of your walkway, patches of dead grass, and dirty siding—all of which might not be so bad on their own but contribute to detracting from your home's appearance and perceived value.
For this reason, the best place to start with front of house landscaping is generally on these tiny fixes. Take a quick inventory of any existing problems with the front of your house, even—and especially—the little ones. Then make a plan for taking care of them. Unless you're dealing with a major issue, most front of house landscaping problems can be solved with a trip to your local home improvement store and some elbow grease.
2. Refresh Your Borders To Increase The Curb Appeal

Adding a stone or brick border to the edge where your flowerbeds meet your grass adds more definition to your space and can make a huge difference in the overall appearance of your lawn. It also makes it harder for grass and weeds to pop up in the dirt.
To install a border, first choose and purchase the type of material that you want to use. Be sure to choose pavers that complement your other exterior features, especially if you have other areas with brick or stone. When you're ready to lay down the border, dig a two- to three-inch trench around the flowerbed's edge and begin to arrange your pavers. Then use the dirt your removed when digging your trench to fill in any gaps and keep the pavers in place.
3. Simple DIY Ideas – Add Flowerbeds Around Stand-Alone Trees

The areas around trees provide a perfect opportunity to add more color and differentiation to your front of house landscaping. If you have any stand-alone trees (meaning trees that are just surrounded by lots of grass), take advantage of the space by digging out a circle of grass around the tree's trunk, mulching it, and filling it in with flowers.
When choosing flowers for this project, look for native species that work well with any other flowers that you have in your front yard and that won't clash in terms of color or style.
4. Let There Be Light with this Simple DIY Idea

Landscape lighting is one of the easiest and quickest things that you can do to boost your curb appeal. Most are solar powered too, which means that you don't have to worry about wiring—just stick 'em in the ground and you're good to go.
Pathway lighting will lend a lot of utility to your front yard in addition to better defining the space. From there, you can accent with other exterior lighting features, such as uplighting, lanterns, and upgraded sconces.
5. Create Paths In Your Backyard

Creating or redoing paths for natural access patterns—such as those leading to your front door or around to your backyard—is an excellent way to spruce up your front of house landscaping. You can create straight paths or make them a bit more organic by flowing with the terrain—though don't lay down a winding path just for the sake of it if it doesn't align with how you actually use the space.
Aim to make any pathways at least 36" wide, and even a little bit wider if you have the room. Then choose pavers that match your home's other exterior features, filling in the space between each paver with grass, dirt, or stones as you see fit.
6. Put Out Some Well-Placed Display Planters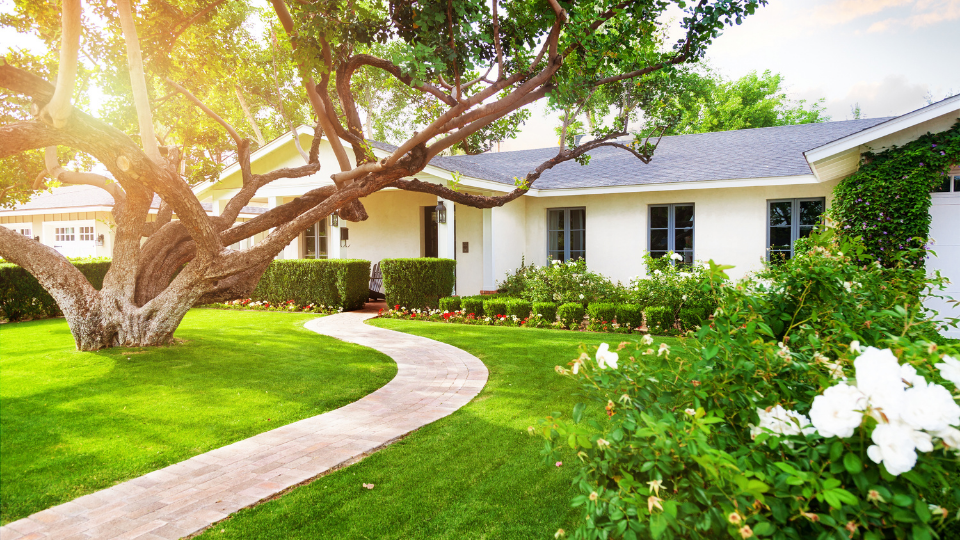 You don't need to dig into the earth to add more plants and flowers to your front yard. For a no-fuss addition, look to display planters, which can be used to adorn key areas around the front of your house, such as your front door or your porch. Stand-alone planters as well as flower boxes allow you to change out your plants with the season, and also bring in a bit of dimension and texture to areas that might otherwise be lacking in visual detail.
7. Hang a Porch Garland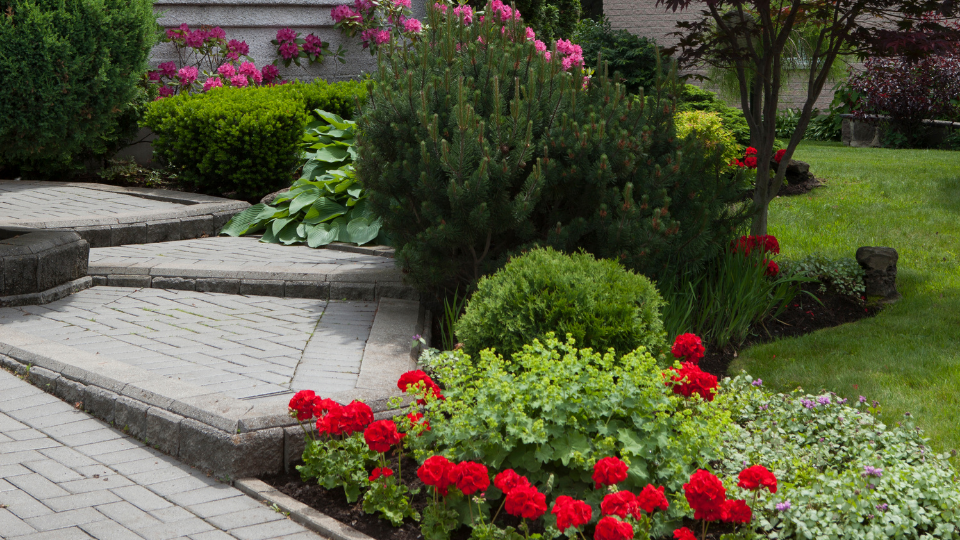 Garlands aren't only for the holidays. If you have a front porch, hang a green or flowered garland along the interior roof edge and down along the sides. This helps create cohesion between the structural space of your front yard and its natural elements, serving as a transition of sorts between your home's exterior and interior areas.
8. Plant Some Perennials

Perennials are plants that you plant once but that bloom every year. And while annuals (plants that bloom only once) can be just as beautiful, planting perennials means that you don't have to worry about taking on your front garden every time spring rolls back around.
Choose perennials that are native to your area, and follow our tips for how to start a flower garden to make sure that you lay down the correct groundwork.
9. Hide or Blend Unsightly Features

Trash bins, air conditioning units, and other necessary but not-so-pretty exterior features can be a stain on your front of house landscaping. The solution? Hide them. There are lots of creative options for hiding these features or blending them in with the exterior of your home, and so long as you have some basic DIY skills you should be able to custom make a cover on your own.
The most popular option: wood paneling, which you can paint to match your siding or leave natural for some contrast and texture. Here's a good tutorial to get an idea of the basics.
A little bit of effort with your front of house landscaping can go a long way. Next time you've got a free weekend, make the most of it by taking on one of the easy projects above, and check out some of our other easy tips for creating curb appeal.
Referenced from moving.com site